Parent Title: SERVICES
> Guarding and Customer Services Ambassador
Security Guarding Service
Our experienced security guards provide 24 hours patrolling and guarding services, to ensure all operation in a building is in normal. If the condition is possible, they will assist tenants to resolve any issues relating to building too. All security guards wear tidy uniform to highlight their professional image. Besides, they have walkie-talkie on hand to communicate with each others so as to stop the crime or accident happens. Their services include: patrolling in buildings or construction sites, security works in exhibitions, concerts or sales office in real estates.
All security guards have received professional training, they can provide a reliable service to our customers with their enthusiastic attitude.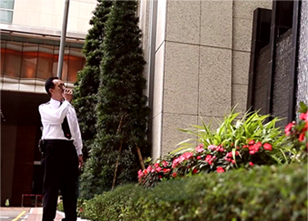 Gurkha Guarding Service
Gurkha guarding team was formed in 1996. As well as being permanently based in Hong Kong, our Gurkha guards possess meritorious service records with the British Army in their respective Gurkha units formerly based across the territory. We have a strict recruitment process which not only ensures the resident status of our staff but also their individual qualities. In service tactical training further develops their potential to cater to the individual needs of different clients.
The skills of our Gurkha guards are wide- ranging and include multi-lingual, weapons handling, guarddog handling, material arts and body guarding. Our Gurkha guards are strategically deployed to enforce the security protection of both our customers and their properties.
Gurkha Services Available
Guarding and Patrol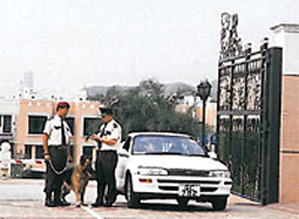 Guarddog Patrol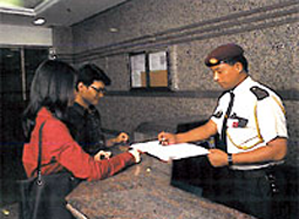 Body Guard
Customer Service Ambassador
To provide a wide range of service, all customer service ambassadors that we selected are high quality and being professional training. They provide customer service and security service for shopping malls, club houses, estates, exhibition centers etc.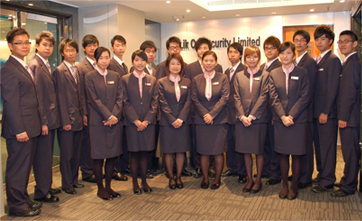 Guarddog Service
All guarddogs that we used are local trained German Shepherd. They are around 2 years old and all of them have dog licensing and have vaccination against rabies. Some of them are pedigreed German Shepherd. Besides, we will employ some dog trainers who have been trained by police force to handle the guarddogs.