Parent Title: PRODUCT
> Aimetis Symphony™ Video Management Software
About Aimetis
Aimetis Corp. is a software company offering integrated intelligent video surveillance solutions for security and business intelligence applications. The company is a global leader in intelligent video technology and is propelling the adoption of video analytics as an integral component of video management solutions.
Aimetis Corp. is a Canadian-based company with distribution partners in more than 60 countries.
Lik On Security Ltd. has been
awarded as the Gold Partner.
Video Management and
Video Analytics
Business Intelligence Reports
Surveillance Solution
Licensing Model
Video Analytics
More About Aimetis
Simple and Unified Platform of
Video Management and Video Analytics, in Harmony
Aimetis Symphony™ is award-winning intelligent video surveillance software that offers a single, innovative, open IP video platform for
video management, video analytics, system integration and alarm management.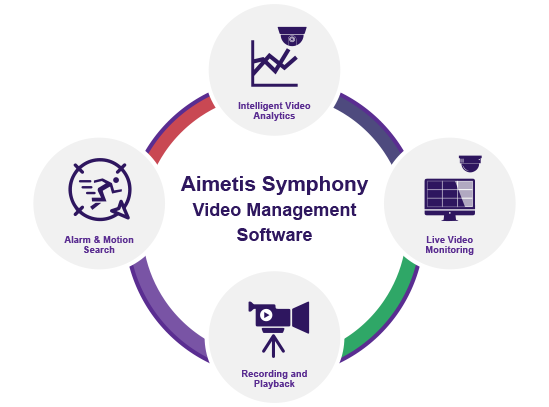 Future-Proof Surveillance Solution
Aimetis Symphony™ offers a single software platform for seamless migration from Analog CCTV to Intelligent IP video surveillance deployments as a means of reducing total cost of ownership, increasing productivity and limiting risk on security investment.
The unique benefits and key features consists of:
Field proven product since 2003,
Integrate analog and IP cameras,
Scalable IP video management without limitation
No proprietary, supports on standard IT hardware, easy to upgrade and expand,
Supports thousands of cameras and encoder models,
Open platform for system integration,
Comprehensive Alarm Management and Reports,
Intelligent User Interface supports dynamic site map and customizable display,
Video Analytics turns passive video data into proactive security and business intelligence.
The Industry's Simplest Licensing Model
Aimetis Symphony™ offers the most simple license structure – One License for One Camera only, license free for servers,
storage as well as client workstations.
With three licenses type to choose from, Aimetis Symphony™ has a solution for every stage on the migration path from Analog
CCTV to intelligent IP video surveillance, and suit for different application with Mix and Match license on a single system.
Aimetis Symphony™ Enterprise
(Intelligent Video)
Aimetis Symphony™ Professional
(Multiple Server Farms)
Aimetis Symphony™ Standard
(Signle Server)
Aimetis Symphony™ Enterprise, incorporates all the capabilities of Standard and Professional, in addition of several Aimetis VE Series™ Video Analytics algorithms, change the usage of video from a passive recording to a proactive, unparalleled Investigation and Reporting Tools for enterprise security and business intelligence.
Aimetis Symphony™ Professional, combines the robust features of the Standard license with enterprise wide system scalability – supports Microsoft Active Directory and clustering, system resilience capabilities such as server failover and multiple path storage, third party system integration, creating a centralized system for security administration and response.
Aimetis Symphony™ Standard, is an ideal choice for organizations making a transition from Analog CCTV with DVR system to IP Video Management. The Standard license is installed on commercial-off-the-shelf hardware, supports an unlimited number of cameras and features robust video recording features, such as; live video monitoring, recording and playback, motion detection, PTZ control, alarm event and motion search, as well as remote client and mobile client connection.
Video Analytics - Intelligent IP-Surveillance
Aimetis VE Series video analytic algorithms are seamlessly incorporated into Aimetis Symphony™, analyzing video data in real-time and providing organizations with intelligent information at their fingertips.
The analytic applications in Aimetis Symphony™ include:
Business Intelligence Reports
Aimetis Symphony™ allows the user to run a variety of business intelligence reports, directly from the software, which can be leveraged to provide architects, developers, traffic analysts, security agents or marketers with the information they need to evaluate operations, optimize operations and plan business requirements.
Available reports include:
People / Vehicle Counts
Object Density
Occupancy
Traffic Flow
Alarm Counts / Time / Rule
Dwell Time
Activity Level